No laboratory should have to reinvent the wheel. Also not with implementation of a quality management system. So many laboratories have already succeeded. Why not learn from the experience of others?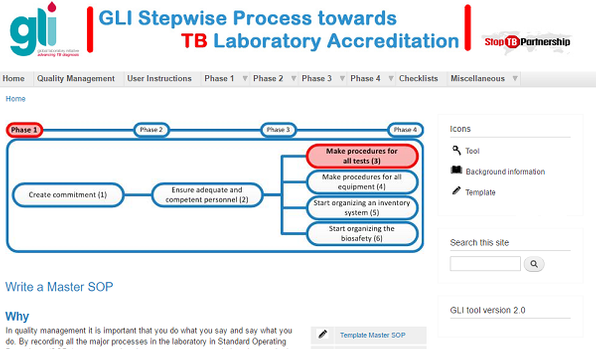 DATOS and the GLI tool
In 2011 the GLI tool, fully called 'Global Laboratory Initiative (GLI) Stepwise Implementation Towards Laboratory Accreditation', was launched. This tool assisted tuberculosis laboratories with implementation of an ISO 15189 quality management system and achieve accreditation. It was an online, free of charge tool that provided a stepwise plan for implementation of a quality management system. Where possible, the tool offered support materials, such as templates of Standard Operating Procedures and forms used in the laboratory, and background reading materials.
Our experts were the lead developers of this tool, which is the fruit of a consensus project in collaboration with partners, including the World Health Organization (WHO), U.S. Centers for Disease Control and Prevention (CDC), and the Clinical and Laboratory Standards Institute (CLSI).
DATOS and the LQSI tool
The GLI tool was received with so much enthusiasm that the World Health Organization requested our experts to develop a similar tool, but then for any type of medical/public health laboratory. This led to the development of the Laboratory Quality Stepwise Implementation (LQSI) tool. In 2020, the GLI tool was merged with the LQSI tool, which now offers TB laboratory specific information and document templates in addition to information and document templates for medical laboratories in general.
The LQSI tool is widely used my numerous laboratories in low- and middle-income countries but also in high-income countries. A survey showed that the tool has guided many laboratories towards international ISO 15189 accreditation. DATOS still maintains and improves the LQSI tool for the World Health Organization and contributed to the translation into Spanish, French, Russian, Arabic and Turkish.
Check-out the LQSI tool at: https://extranet.who.int/lqsi
More information? Feel free to contact us!