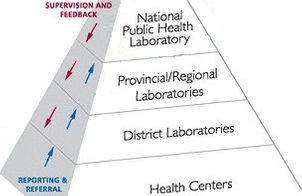 Laboratories are the eyes and ears of public health surveillance. They are the first to detect disease outbreaks. Without proper communication channels and referral systems an early response to disease outbreaks is impossible.
High quality laboratories need high quality laboratory systems
High quality laboratories need to be embedded in high quality laboratory systems. This is not only important for diagnosis of individual patients, but also for global health security.
DATOS and the Global Health Security Agenda
DATOS improves laboratory systems through training, advice, and assessment. Our experts are among the main developers of the Laboratory Systems Scorecard for the Global Health Security Agenda. This scorecard assesses laboratory systems' capacity to achieve Global Health Security Targets and International Health Regulations. It is used to design, monitor and evaluate laboratory capacity building programs and inform National Laboratory Policy and Strategic Plan development in resource limited countries.
DATOS and Antimicrobial Resistance (AMR)
In addition, DATOS plays an active role in laboratory systems strengthening in the context of AMR. Laboratories are indispensable for monitoring of AMR. Increasing investments are made to strengthen laboratories to perform Antibiotic Susceptibility Testing and strengthen laboratory systems to improve AMR monitoring.
Do you have questions about our work or would you like to get more information? Feel free to contact us!