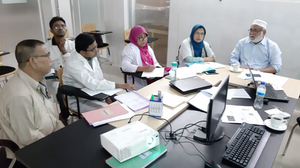 Title: Laboratory assessment at the Bangladesh Institute of Tropical Infectious Diseases
Code: D19-07
Date: August – December 2019
Location: Bangladesh
Client: Mérieux Foundation
Type of services:

Provision of distance training on the World Health Organization (WHO) Laboratory Quality Stepwise Implementation (LQSI) tool.
Conduct of an in-depth laboratory quality management system assessment based on the WHO LQSI tool and ISO 15189.
Facilitation of a workshop to analyse assessment findings and plan the quality management system implementation process.

Report(s):
[12 Dec 2019] LQSI tool/Quality Management System assessment at the Bangladesh Institute of Tropical Infectious Diseases - In the last week of November 2019 DATOS conducted an in-depth quality management system assessment at the Bangladesh Institute of Tropical Infectious Diseases (BITID). This was part of the Quality Initiative project of the Mérieux Foundation. This project aims to ensure that members of the GABRIEL research network meet the requirements of international standards for medical laboratory quality and competence. The initiative, which boosts a lab's overall performance, is built upon Laboratory Quality Stepwise Implementation tool (LQSI tool).
BITID, located in Chittagong, Bangladesh, started in 2013 under the Health Population and Nutrition sector Program (HNPSP) of the Government of Bangladesh. It aims at addressing health needs related to tropical diseases by conducting and promoting education and training, conducting research and disseminating results, providing clinical services in tropical health conditions and promoting health and measures for prevention of illness.
In 2015, BITID opened the Rodolphe Mérieux Laboratory with support from the Mérieux Foundation. This is a 250 m2 facility dedicated to research, training and biological analysis focused on tuberculosis, respiratory and enteric infections. It is part of a network of 19 members in 15 countries.
Upon completion of the assessment, a one-day workshop was organized to present and analyze the assessment results and develop a plan for continuing further implementation of the quality management system towards ISO 15189 accreditation.
Want to know more? Contact us!